You Are Special: Neighborly Words of Wisdom from Mister Rogers (Paperback)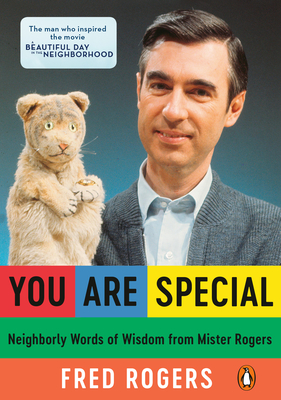 $16.00

Usually Ships in 1-5 Days
Description
---
The beloved host of PBS's Mister Rogers' Neighborhood, subject of the acclaimed documentary Won't You Be My Neighbor? and the forthcoming biopic A Beautiful Day in the Neighborhood starring Tom Hanks, offers warm words of advice and encouragement, along with reflections on his own childhood

For more than fifty years, Fred Rogers and his enchanting neighborhood have educated, comforted, and influenced millions of people, both young and young at heart. Organized by themes—relationships, childhood, communication, parenthood, and more—this touching collection gathers his signature sayings and wise thoughts, all of which he enriches with his own memories of being a child and growing up. His ability to understand all kinds of people will inspire viewers past and present, and his straightforward, compassionate guidance will help show you how to get the most from life.
About the Author
---
Fred Rogers (1928–2003) was a producer, writer, magician, puppeteer, minister, husband, and father who began working in children's television in the 1950s and created the PBS program Mister Rogers' Neighborhood. He pioneered "programming that spoke, with respect, to the concerns of early childhood, not as adults see it but as children feel it." For his work, he received the Presidential Medal of Freedom, a Peabody Award, and numerous other honors. The Television Hall of Fame inducted him in 1999, and the Smithsonian Institution displays one of his sweaters as a "treasure of American history." He founded Family Communications, Inc., now Fred Rogers Productions, a not-for-profit company that continues to develop programming, special projects, and materials that help children learn and grow, including Daniel Tiger's Neighborhood.