The Lazy Genius Kitchen: Have What You Need, Use What You Have, and Enjoy It Like Never Before (Hardcover)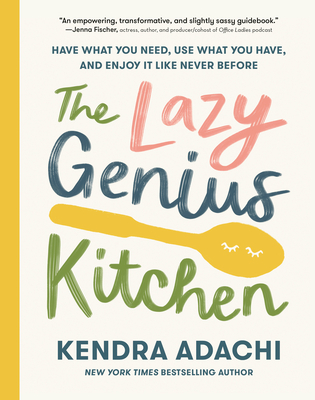 $26.00

Usually Ships in 1-5 Days
Description
---
NEW YORK TIMES BESTSELLER • From the New York Times bestselling author of The Lazy Genius Way comes a fresh perspective for getting the most out of your kitchen!

"An empowering, transformative, and slightly sassy guidebook."—Jenna Fischer, actress, author, and producer/cohost of Office Ladies podcast 

You want your kitchen to be the heartbeat of the home, but you're overwhelmed and out of breath trying to make it happen. Meals are on a never-ending loop, and you don't have time to prepare dinner, much less enjoy it. Popular Lazy Genius expert and bestselling author Kendra Adachi is here to help! 

Packed with proven Lazy Genius principles, the book will teach you to: 
• name what matters to you in the kitchen—whether that's flavor, convenience, or something else entirely 
• feed your people with efficiency and ease 
• apply a simple, actionable five-step process—prioritize, essentialize, organize, personalize, and systemize—to multiple areas of your kitchen, empowering you to enjoy your kitchen the way you've always wanted 

You don't need magical recipes, fancy gadgets, or daunting lists to follow to the letter; you just need a framework that works whether you're cooking for one or for twenty. 

Straightforward, strategic, soulful, and a little sassy, The Lazy Genius Kitchen will turn your hardest-working room into your favorite one, too.
About the Author
---
Kendra Adachi is the New York Times bestselling author of The Lazy Genius Way and creator of The Lazy Genius podcast, and the founder of the Lazy Genius Collective website, which has nearly a million annual visitors. As a systems expert and professional permission giver, Kendra helps others stop doing it all for the sake of doing what matters. She lives in North Carolina with her husband and three kids.
Praise For…
---
"Most 'kitchen books' are cookbooks, but not this one. The Lazy Genius Kitchen is your guide to strategic meal planning, organization, cooking, and cleaning up. You don't have to dread stepping into the kitchen, because Kendra Adachi shows you how to create a sustainable rhythm for managing your kitchen and feeding the people you care about. And you'll have fun doing it."—Jenna Fischer, actress, author, and producer/cohost of Office Ladies podcast
 
"Have a kitchen? You need this book. Kendra teaches you how to be the boss of your kitchen in all the ways that matter most to you."—Myquillyn Smith, New York Times bestselling author of Welcome Home
 
"Adachi is like the smart big sister I never had, revealing the secrets of a kitchen that not only take the stress out of daily meal prep, but actually make it fun. With warm, no-nonsense advice and proven formulas that liberate you from kitchen clutter and complicated recipes, The Lazy Genius Kitchen is an essential tool for living better every day."—Ingrid Fetell Lee, author of Joyful
 
"Whether you are a new cook in a quandary about getting something on the table over and over again each day or a seasoned professional who lives and works in the kitchen but gets weighed down by decision fatigue, Kendra is here to put a friendly hand on your shoulder and remind you what could and should really matter about keeping the heart of your household beating strong."—Bonnie Ohara, author of Bread Baking for Beginners and owner of Alchemy Bread Co.
 
"This book is chock-full of smart cooking hacks, from tips to eliminating what you don't need to creating autopilot solutions that make it easier and more efficient to get meals on the table. I'm officially on the Lazy Genius cooking train. Choo choo, fellow food hackers."—Sherry Petersik, New York Times bestselling coauthor of Lovable Livable Home
 
"This is so much more than a system or a collection of rules. It's about embracing and loving who you are and working within that to create the space that works for you."—Ashley Rodriguez, creator of Not Without Salt and author of Date Night In
 
"Now that I have thought about how I can make my kitchen into a place that serves the needs and personality of my family, I feel empowered as I move through my daily kitchen chores. Kendra has shown me what matters . . . even a lazy cook like me."—Anna Sale, host of Death, Sex & Money podcast and author of Let's Talk About Hard Things
 
"With Kendra's no-nonsense, witty, and practical advice, you'll feel empowered to choose your own priorities based on looking at your life with a kind, grateful eye. The result is not only empowerment but peace and gratitude even for the messy places. That's a skill I'll be using not only in the kitchen, but in the rest of my life, too."—Aarti Sequeira, cookbook author, chef, producer