Brothers from Afar: Rabbinic Approaches to Apostasy and Reversion in Medieval Europe (Hardcover)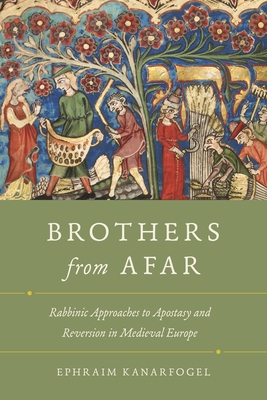 $89.99

Usually Ships in 1-5 Days
Description
---
In Brothers from Afar: Rabbinic Approaches to Apostasy and Reversion in Medieval Europe, Ephraim Kanarfogel challenges a long-held view that those who had apostatized and later returned to the Jewish community in northern medieval Europe were encouraged to resume their places without the need for special ceremony or act that verified their reversion. Kanarfogel's evidence suggests that from the late twelfth century onward, leading rabbinic authorities held that returning apostates had to undergo ritual immersion and other rites of contrition. He also argues that the shift in rabbinic positions during the twelfth and thirteenth centuries was fundamentally a response to changing Christian perceptions of Jews and was not simply an internal halakhic or rabbinic development.
Brothers from Afar is divided into seven chapters. Kanarfogel begins the book with Rashi (1040-1105), the pre-eminent European rabbinic authority, who favored an approach which sought to smooth the return of penitent apostates. He then goes on to explain that although Jacob Katz, a leading Jewish social historian, maintains that this more lenient approach held sway in Ashkenazic society, a series of manuscript passages indicate that Rashi's view was challenged in several significant ways by northern French Tosafists in the mid-twelfth century. German Tosafists mandated immersion for a returning apostate as a means of atonement, akin to the procedure required of a new convert. In addition, several prominent tosafists sought to downgrade the status of apostates from Judaisim who did not return, in both marital and economic issues, well beyond the place assigned to them by Rashi and others who supported his approach. Although these mandates were formulated along textual and juridical lines, considerations of how to protect the Jewish communities from the inroads of increased anti-Judaism and the outright hatred expressed for the Jews as unrivaled enemies of Christianity, played a large role. Indeed, medieval Christian sources that describe how Jews dealt with those who relapsed from Christianity to Judaism are based not only on popular practices and culture but also reflect concepts and practices that had the approbation of the rabbinic elite in northern Europe. Brothers from Afar belongs in the library of every scholar of Jewish and medieval studies.
About the Author
---
Ephraim Kanarfogel is the E. Billi Ivry University Professor of Jewish History, Literature, and Law at Yeshiva University. He is also the author of the award-winning books Jewish Education and Society in the High Middle Ages (1992), Peering through the Lattices: Mystical, Magical, and Pietist Dimensions in the Tosafist Period (2000), and The Intellectual History and Rabbinic Culture of Ashkenaz (2012), all published by Wayne State University Press.