Laundry Love: Finding Joy in a Common Chore (Hardcover)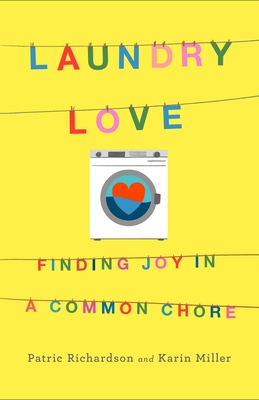 Description
---
"Patric is going to be the Ina Garten of laundry." —Good Day L.A.

A MOST ANTICIPATED BOOK by GMA.com, The Washington Post, Working Mother, Good Day L.A., and more!

Patric Richardson, aka the "Laundry Evangelist," reveals his revolutionary methods for cleaning clothes—and making laundry loads more fun.

Doing laundry is rarely anyone's favorite task. But to Patric Richardson, laundry isn't just fun—it's a way of life. After years of running Laundry Camp at the Mall of America for thousands of eager learners, he's ready to share his tips, tricks, and hacks—bringing surprise and delight to this commonly dreaded chore.

Sorting your laundry? It's not all about whites and darks. Pondering the wash cycles? Every load, even your delicates, should be washed using express or quick-wash on warm. Facing expensive dry cleaning bills? You'll learn how to wash everything—yes everything—at home. And those basically clean but smelly clothes? Richardson has a secret for freshening those too (hint: it involves vodka, not soap).

Changing your relationship with laundry can also change your life. Richardson's handy advice shows us how to save time and money (and the planet!) with our laundry—and he intersperses it all with a healthy dose of humor, real-life laundry stories, and lessons from his Appalachian upbringing and career in fashion.

Laundry Love will make you wonder why you ever stressed about ironing, dry cleaning, or (god forbid) red wine spills on your new couch. No matter the issue, Richardson is here to help you make laundry miracles happen—wrinkles and stains be damned.
About the Author
---
Patric Richardson—fashion pro, textile expert, and Kentucky native—owns the Mona Williams boutique at Mall of America, where he holds Laundry Camp for all those interested in learning his fun and easy laundry lessons. Previously, he worked at Neiman Marcus, Nordstrom, and other great department stores. He lives with his partner in St. Paul, Minnesota, his other beloved state.

Karin B. Miller is an award-winning writer and editor, best known for creating and editing two national anthologies, The Cancer Poetry Project 1 & 2. She lives with her family in Minneapolis.
Praise For…
---
"A cheery and thorough guide to all things laundry . . . Richardson's love for doing laundry is so infectious that readers just might find themselves dreading this mundane chore a bit less." —Publishers Weekly

"Who would have dreamed a book on laundry could be so entertaining—and educational? . . . Along the way is a narrative enhanced by personal anecdotes as well as helpful tips and lists . . . It's truth in print that laundry just might become your new best hobby." —Booklist

"I have never thought about a book more than this book...Patric is going to be the Ina Garten of laundry...My towels have never been so fluffy." —Good Day L.A.

"This slim volume, its breezy pages of tips and anecdotes, stories and, in the back, recipes, is a lovely salve. One would be very fortunate, I think, to be Richardson's friend or neighbor, share his optimism and joy in life's seemingly small things." —The Washington Post

GMA.com's list of 25 Must-Read Books for March 2021
Working Mother's Most Anticipated Books of 2021
Washington Post 's Most Anticipated Books of 2021
Parade's Spring Cleaning Picks
Good Day L.A. March 2021 Book Recommendation
St. Paul Pioneer Press' Most Anticipated Books of 2021