The Parents' Phrase Book: Hundreds of Easy, Useful Phrases, Scripts, and Techniques for Every Situation (Paperback)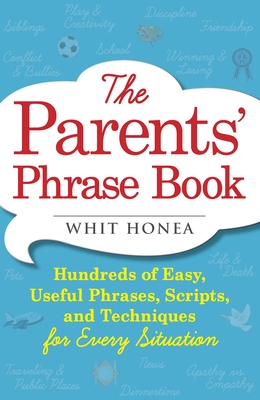 $15.99

Usually Ships in 1-5 Days
Description
---
"Children can be like a foreign country, and this is the phrase book and guide book that adults need to navigate that landscape sensitively and effectively." - Catherine Connors, Editor-in-Chief, Disney Interactive Family

"The Parents' Phrase Book shares [Whit's] helpful insight into parenting in a way that is thought-provoking, heartwarming, and always entertaining." - Ed Sanders, TV Host (Owner's Manual, Extreme Makeover: Home Edition)

"Whit is...high on my list of people to ask for advice if I wasn't sure how to deal with a parenting issue." - Matt Blum, Editor-in-Chief, GeekDad.com

"The Parents' Phrase Book is the go-to guide...for the wild rollercoaster known as parenting." - Mike Adamick, Author of Dad's Book of Awesome Projects; MikeAdamick.com

"No matter how much we study and experiment, our best efforts as parents get lost in translation.... This book is the closest thing we have to a 'Dead Sea Scrolls' for parenting." - Charlie Capen, Author of The Guide to Baby Sleep Positions; HowToBeADad.com

What do you say when your child gets caught in a fib? Or asks you where babies come from? With The Parents' Phrase Book, you no longer have to worry about coming up with the right response on the spot. Written by Whit Honea, a parenting expert whose advice has appeared on BabyCenter, Babble, and the Huffington Post, this valuable guide provides you with the key language and tactics you'll need to deal with a variety of parenting situations. Inside, Honea explains why his approach quickly resolves issues and why so many of the parenting phrases you'll hear on the playground actually encourage your child to misbehave. From tackling sibling rivalry to handling bullies at school, The Parents' Phrase Book will help you connect with your child and address even the toughest parenting dilemmas.
About the Author
---
An Adams Media author.