You've Made Your Bed, Now Go Bounce On It: 800 Quotations About Children, Their Parents and Others who Care About Them (Paperback)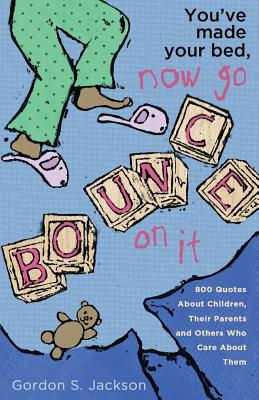 $9.95

Usually Ships in 1-5 Days
This books is not returnable and requires prepayment.
Description
---
"You've Made Your Bed, Now Go Bounce On It" is a compilation of quotations about children and those who interact with them -- their parents and grandparents, teachers, or daycare providers. The anthology's nearly 800 quotations will immerse you in the world of children: their uniqueness, their potential, their world of play, their needs, and their vulnerabilities. The quotes are drawn from historical and contemporary sources, and vary in tone, from the thoughtful, "Nothing you do for children is ever wasted" (Garrison Keillor), to the humorous, such as Fran Lebowitz's advice: "Ask your child what he wants for dinner only if he's buying." Or the unexpected: "It takes a whole village to keep parents sane," by African writer Sobonfu Som . The anthology consists of 28 sections, ranging from "Families" and "Food and Drink," to "Fathers, "Mothers," and "Parenting," and "Siblings" and "Sleep." "You've Made Your Bed, Now Go Bounce On It" holds special appeal for parents and grandparents, teachers and others who interact with children. Besides having interest for these groups, especially as a gift, because the book can be used either for browsing or as a reference work, it would hold significant appeal to libraries as well.
About the Author
---
Gordon Jackson is originally from South Africa. He has taught journalism and worked in academic adminstration at Whitworth University, in Spokane, Washington, since 1983. You've Made Your Bed, Now Go Bounce On It is his seventh anthology of quotations. He completed his undergraduate work at the University of Cape Town. He also has an MA from Wheaton College and a doctorate in mass communication from Indiana University. He worked as a journalist in Johannesburg in the 1970s. Jackson is married to another South African, Sue, who he says helps keep his accent honest. They have two adult children, Sarah and Matthew.