1-2-3 Magia: Disciplina efectiva para niños de 2 a 12 (Paperback)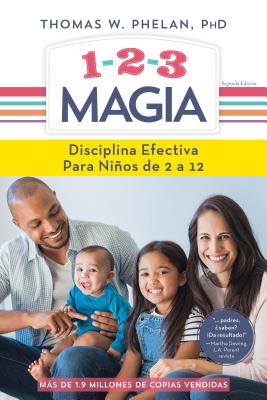 Description
---
The #1 child discipline book, now available in Spanish!
"¡Las ideas de este libro funcionan! Realmente es como magia, siento que recuperé el mando."
La segunda edición del exitoso 1-2-3 Magia que ha vendido 1.8 millones de copias internacionalmente en más de 20 idiomas por el aclamado experto Thomas W. Phelan, Ph.D. ha compilado dos décadas de estudio y experiencia en un fácil de usar programa diseñado para padres haciendo esfuerzo para conectar con sus hijos mas profundamente para ayudarlos a crecer y desarrollarse en niños, adolescentes y adultos saludables y capaces. Dr. Phelan explica la complicada tarea de crianza en tres pasos sencillos:
Ayudando a sus niños a aprender como controlar sus emociones y abstener del mal comportamiento, incluyendo: cómo manejar la rivalidad entre hermanos, berrinches, pucheros y mentiras.
Fomentando el buen comportamiento y proveyendo observaciones positivas.
Fortaleciendo la relación con tus hijos para resforzar el vínclulo natural entre padres-hijos.
Usted encontrara instrumentos que podrá usar en cualquier situación, además, aprenderá de experiencias reales de otros padres que han navegado retos comunes de crianza como reluctancia para hacer tareas, faltas de respeto, problemas a la hora de dormir o quedándose dormidos a través de la noche. Por años, millones de padres alrededor del mundo han usado el premiado programa 1-2-3 Magia para ayudar a que sus hijos desarrollen inteligencia emocional, criar familias más saludables y felices, y devolverle la alegría a la familia.
About the Author
---
Dr. Thomas W. Phelan is an internationally renowned expert, author, and lecturer on child discipline and Attention Deficit Disorder. A registered Ph.D. clinical psychologist, he appears frequently on radio and TV. Dr. Phelan practices and works in the western suburbs of Chicago.