Gratitude Quotes: Inspirational Picture Quotes about Gratitude: Gift Book (Paperback)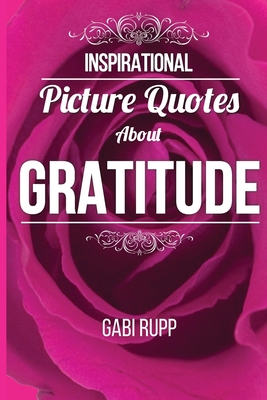 $11.99

Usually Ships in 1-5 Days
This books is not returnable and requires prepayment.
Description
---
Gratitude Quotes: Inspirational Picture Quotes about GratitudeGabi Rupp, creator of leanjumpstart.com shares an extraordinary collection of her favorite and most insightful gratitude quotes from around the world and throughout history. It is a great addition to your own personal library but will make a wonderful gift too. As one of a series of Picture Quotes books it is written for the lover of visually appealing positive quotes.Enjoy touching, inspirational and famous quotes on gratitude and thankfulness. These carefully selected quotations will help inspire you and focus your energy on what to appreciate in your life. Inspirational picture quotes about gratitude is an easy read detailing the collective life wisdom of the author: It is impossible to feel grateful and depressed at the same moment Naomi Williams Vibrant PicturesBrilliant color photos grace each page. The Inspirational Picture Quotes about Gratitude is a perfect book to carry in your pocket for daily affirmations and uplifting sayings, sure to make each day a little brighter. A gift book for many occasions ... long-time friend, acquaintance or office friendA great one-size-fits-all book that invites you to embark on a journey to find gratitude within yourself, motivating you to listen to your heart and being grateful. With their eclectic mixture of human understanding, and sometimes just plain fun, these are gifts that people want to give and love to receive. This heart-warming collection of some of the most uplifting gratitude quotes from around the world is the perfect gift for many occasions: * Anniversary* Birthday* Christmas* Congratulation* Farewell & Goodbye* Graduation* Holiday* Retirement* Thanksgiving* Support Inspiring Gratitude Quotes from people throughout historyFilled with thoughtful quotes about gratitude and thankfulness from people throughout history, you will read the wisdom of known historical and modern figures such as: * Marcus Tullius Cicero* Albert Einstein* Francis of Assisi* Friedrich Nietzsche* Brian Tracy* Marcel Proust* Eileen Caddy* Anna JarvisThe printed version comes with a special dedication page at the beginning and a special blank page for your own favorite inspirational quotes. Pick up your copy of Inspirational Picture Quotes about Gratitude today and feel the power of gratitud.