The Cat Lover's Quotation Book: A Collection of Feline Favorites (Hardcover)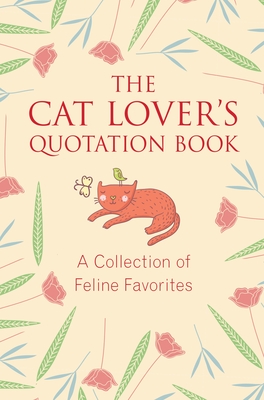 $12.50
Currently unavailable from publisher and distributor
Description
---
Rich with meaningful quotes and humorous one-liners, The Cat Lover's Quotation Book brings readers into a deeper connection with our furry feline friends, highlighting on all the fun and surprises that come from living with a cat.

Simple and accessible for all ages, this delightful title speaks to the cat lover in all of us, letting readers share in the many wonderful experiences that cat ownership brings. An affordable and simple gesture, this encouraging title adds a little meaning to any gift or occasion…and is impossible to resist. Beautifully assembled in an easy-to-follow format, The Cat Lover's Quotation Book is the perfect gift for the cat lover in your life.

Sharing your life with an animal, experiencing their unconditional love and trust, is one of the most calming and personally fulfilling things a person can do. The Cat Lover's Quotation Book collects the numerous lessons we can learn from pet ownership and puts them all in one place—in an attractive volume that fits in your pocket!

The Cat Lover's Quotation Book collects nearly 200 quotes of the whiskery wit and wisdom that only cats can provide!
About the Author
---
Jo Brielyn is an author and contributing writer for Hatherleigh Press and has currently completed 16 nonfiction books about health and wellness. Jo holds a Bachelors of Science degree in Education, Training and Development. She is the founder, writer, and editor of Creative Kids Ideas, a resource website that supplies parents, teachers, and family members with the tips and fun ideas to help build stronger, happier, and more creative kids. Jo is also a veteran of the United States Air Force and a former youth leader. She resides in Central Florida with her husband and their two daughters. Jo is the co-author of Combat Fat for Kids and The Greek Yogurt Diet.