Never!: Over 750 Things You Should Never Do (Hardcover)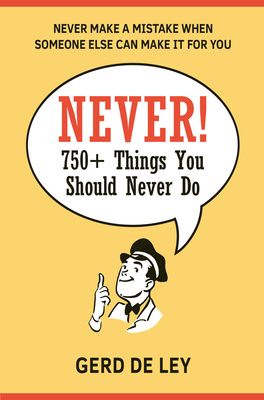 $15.00
Currently unavailable from publisher and distributor
Description
---
Never make a mistake when someone else can make it for you.

A wise man once said that "never" is a ridiculous word you should never use. Never! contains over 750 quotes from people telling you to never do something. From the inspirational like "Never agree to surrender your dreams" from Jesse Jackson to the comedic like "Never moon a pit bull after sitting in A-1 sauce" from Johnny Carson. Never also has quotes we can all agree on like "Never go to bed with someone who has no books" from John Waters and quotes that makes you think like "Never trouble trouble till trouble troubles you" from John Adams. Full of wit and wisdom, this collection of nevers is a keeper.

Words of advice on what you should do will never be as straightforward or as helpful as what you should never do! With hundreds of quotes from around the world, Never! collects all the wisdom you could ever need. Remember: Never make a mistake when someone else can make it for you!
About the Author
---
Gerd de Ley is a former English teacher and has been a professional writer and actor since 1975. From an early age, Gerd has been an avid collector of quotations and proverbs from all over the world and has had more than 450 works published in Holland and Belgium. His most comprehensive book, Het Grootste Citatenboek ter Wereld (translated as The Greatest Quotation Book in the World), was published in 2009 and contains over 40,000 quotes. For the past two decades, Gerd has worked together with linguist David Potter to bring his work to English audiences, resulting in publications in England, USA, India, Finland, China, and Vietnam.
Praise For…
---
"A laugh-out-loud collection that also makes an excellent gift book." --Midwest Book Review