Beyond the War on Invasive Species: A Permaculture Approach to Ecosystem Restoration (Paperback)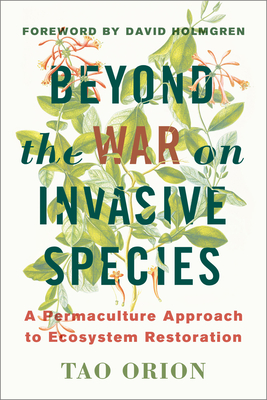 $22.95

Usually Ships in 1-5 Days
Description
---
Invasive species are everywhere, from forests and prairies to mountaintops and river mouths. Their rampant nature and sheer numbers appear to overtake fragile native species and forever change the ecosystems that they depend on.
Concerns that invasive species represent significant threats to global biodiversity and ecological integrity permeate conversations from schoolrooms to board rooms, and concerned citizens grapple with how to rapidly and efficiently manage their populations. These worries have culminated in an ongoing "war on invasive species," where the arsenal is stocked with bulldozers, chainsaws, and herbicides put to the task of their immediate eradication. In Hawaii, mangrove trees (Avicennia spp.) are sprayed with glyphosate and left to decompose on the sandy shorelines where they grow, and in Washington, helicopters apply the herbicide Imazapyr to smooth cordgrass (Spartina alterniflora) growing in estuaries. The "war on invasive species" is in full swing, but given the scope of such potentially dangerous and ecologically degrading eradication practices, it is necessary to question the very nature of the battle.

Beyond the War on Invasive Species offers a much-needed alternative perspective on invasive species and the best practices for their management based on a holistic, permaculture-inspired framework. Utilizing the latest research and thinking on the changing nature of ecological systems, Beyond the War on Invasive Species closely examines the factors that are largely missing from the common conceptions of invasive species, including how the colliding effects of climate change, habitat destruction, and changes in land use and management contribute to their proliferation.
There is more to the story of invasive species than is commonly conceived, and Beyond the War on Invasive Species offers ways of understanding their presence and ecosystem effects in order to make more ecologically responsible choices in land restoration and biodiversity conservation that address the root of the invasion phenomenon. The choices we make on a daily basis--the ways we procure food, shelter, water, medicine, and transportation--are the major drivers of contemporary changes in ecosystem structure and function; therefore, deep and long-lasting ecological restoration outcomes will come not just from eliminating invasive species, but through conscientious redesign of these production systems.