Children of the Aging Self-Absorbed: A Guide to Coping with Difficult, Narcissistic Parents and Grandparents (Paperback)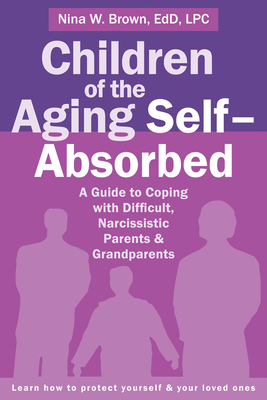 $22.95
Currently unavailable from publisher and distributor
Description
---
Growing up with a parent who is self-absorbed is difficult, and they may become more difficult to deal with as they age. This essential book shows how to cope with your aging parent's narcissistic behavior, and provides tips to help protect yourself and your children from their self-absorbed, destructive actions.
As your self-absorbed parent grows older and becomes more dependent on you, hurtful relationships may resurface and become further strained. In the tradition of Children of the Self-Absorbed, author Nina Brown offers the first book for adult children of aging narcissistic or self-absorbed parents. You will learn practical, powerful strategies for navigating the intense negative feelings that your parents can incite, as well as tips to protect your children from the criticism, blame, or hostility that may exist between you and their grandparent.
In this book, you will gain greater awareness of how and why your parent's self-absorbed behaviors and attitudes get worse, and develop strategies to manage the negative feelings that can arise as a result. You'll also learn to reduce the shame and guilt that may be felt when you feel like you don't want to be a caretaker. Finally, you'll learn to set limits with your parent so you can stay sane during this difficult time.
Having an aging parent can be stressful enough, but dealing with an aging narcissistic or self-absorbed parent is especially challenging. This essential guide will help you through.
About the Author
---
Nina W. Brown, EdD, LPC, received her doctorate from the College of William and Mary, and is a professor and eminent scholar of counseling at Old Dominion University in Norfolk, VA. She is former president of the Society of Group Psychology and Group Psychotherapy, and a current commissioner for the American Psychological Association's Commission on Accreditation. Brown is the author of twenty-seven books on group therapy and narcissism, including Children of the Self-Absorbed, Loving the Self-Absorbed, and Whose Life is it Anyway?