Everything That Rises: A Climate Change Memoir (Hardcover)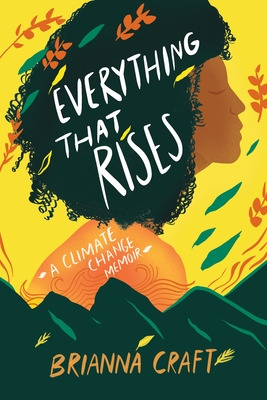 $28.99

Usually Ships in 1-5 Days
Description
---
One of Ms. magazine's "Most Anticipated Feminist Books of 2023"

Authentic and inspiring, Everything That Rises personalizes the realities of climate change by paralleling our relationship to the planet with the way we interact within our own homes.
 
Nineteen-year-old Brianna Craft is having a panic attack. A professor's matter-of-fact explanation of the phenomenon known as "climate change" has her white-knuckling the table in her first environmental studies lecture. Out of her father's house, she was supposed to be safe.
 
This moment changed everything for Brianna. For her first internship, she jumped at the chance to assist the Least Developed Countries Group at the United Nations' negotiations meant to produce a new climate treaty. While working for those most ignored yet most impacted by the climate crisis, she grappled with the negligent indifference of those who hold the most power. This dynamic painfully reminded her of growing up in a house where the loudest voice always won and violence silenced those in need.
 
Four years later, Brianna witnessed the adoption of the first universal climate treaty, the Paris Agreement. In this memoir that blends the political with the personal, Brianna dives into what it means to advocate for the future, and for the people and places you love, all while ensuring your own voice doesn't get lost in the process.
 
It will take all of us to protect our home.
About the Author
---
Brianna Craft is a senior researcher at the International Institute for Environment and Development (IIED). Craft works to further equity in the United Nations' climate change negotiations for the world's poorest countries, which have done the least to cause the climate crisis but are the most vulnerable to its impacts. Based in London, she researches climate diplomacy, taking specific interest in the Paris Agreement and provisions to develop and transfer technology. Craft holds a master's degree in environmental studies from Brown University in addition to a bachelor's degree in architectural studies and minors in urban design and planning, and environmental studies from the University of Washington.
Praise For…
---
"The most unusual and authentic book you will ever read on climate change. The international climate change negotiation may appear as an institutionalized impersonal political process.  Craft shows how it is actually deeply personal, mysteriously exhilarating and profoundly moving." —Christiana Figueres, author of The Future We Choose: The Stubborn Optimist's Guide to the Climate Crisis and former executive secretary of the United Nations Framework Convention on Climate Change

"This is a tour de force—an instant classic and a crucial addition to the literature of the environment. It tells many stories, but the through-line is the best account yet from inside the global climate negotiations. It's told from the most important and least acknowledged of viewpoints—the negotiating team for the poorest and most vulnerable nations—and it's told with love, power, brio, insight, passion and compassion. Do not miss it for any reason." —Bill McKibben, author of The End of Nature

"Whether she's writing about her traumatic personal history or the shared uncertainty of our climate affected future, Briana Craft's words radiate warmth, power, vulnerability, and strength. At once urgent and hopeful, her book is simultaneously a passionate reminder of the ways in which our connections transcend history and geography and a searing critique of the consequences of forgetting that interdependence is our only chance for survival. A promising debut." —Mathangi Subramanian, EdD, author of A People's History of Heaven

"An amazing story worth reading by anyone who wants to know how the negotiators from the most vulnerable developing countries manage to hold their own." —Saleemul Huq, director, International Centre for Climate Change and Development

"Within her irresistible memoir, Everything That Rises, Brianna Craft powerfully embodies advocacy for all communities affected by environmental disaster. In a story that is alternately harrowing and enchanting, Craft's honesty and passion inspire her readers to heed her clarion call to defend the environments of marginalized countries— and neighborhoods, because in protecting our neighborhoods we are protecting Earth, our common home. Thanks to Craft's exquisitely recounted dual journey, readers not only comprehend, but also feel, that all 'global' climate change is local." —Harriet A. Washington, author of A Terrible Thing to Waste: Environmental Racism and Its Assault on the American Mind and Medical Apartheid: The Dark History of Medical Experimentation on Black Americans from Colonial Times to the Present

"This is a brave memoir by a courageous leader in her own right.  Brianna worked side by side with people representing the most climate vulnerable countries on the planet, to be heard, to be taken seriously and in pursuit of justice. She brings the geopolitics of the climate negotiations to life through the people and friendships that make the process what it is. Brianna's vulnerability, honesty and humor make this a wonderful read." —Dr. Tara Shine, author of How To Save Your Planet One Object at a Time

"We need all the books about climate change right now, written by all the people with the knowledge and expertise to show and tell us how to save the planet. Brianna Craft is one of those people and this is one of those books." —Ms. Magazine

"A fascinating, engaging, and impressively presented life story." —Midwest Book Review

"Everything That Rises is an essential book because of its insights into the workings of the UNFCCC process and because of its emphasis on the plights and needs of the less developed nations. It is powerful because, by
opening her heart, Brianna Craft creates a bond that tugs her readers into the two parts of her story and makes us care. Highly recommended!" —New York Journal of Books.

Everything That Rises is recommended in "6 New Biographies and Memoirs to Inspire and Educate" in New In Books.

"Brianna Craft gives a no-holds-barred account of the frustrations and triumphs involved and the intense depression and euphoria it invoked, alongside family issues and an unexpectedly close relationship to her God. If you want to understand why it all took so long to agree on, you can't do much better than read this book." —Market Garden Reader Book Reviews.

"Kelso grad's memoir describes coming of age with climate change at April WordFest." —The Wahkiakum County Eagle.

"After most people complete their undergraduate degree, they either take a break or jump into a job. Few, like Brianna Craft, set out to save the world...Craft brings the perspective of an African American woman from a rural Northwest community."—University of Washington Magazine