Natural Pregnancy Guide: Empowering Moms To Make Healthy Choices (Paperback)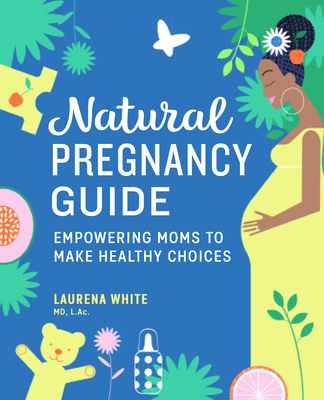 $15.99

Usually Ships in 1-5 Days
Description
---
A simple guide to pregnancy—explore the birth experience that's a natural fit for you
Learn how to create the healthiest environment for your baby by eliminating potentially harmful habits and substances from your body and your surroundings wherever possible. This book is your safe, science-backed guide to deciding what your individual pregnancy and birth plan will look like—whether you want to give birth in a hospital, at home, or in a birthing center.
Find practical, actionable advice for all pregnant women about practices like essential oil therapy, plant-based nutrition, relaxation techniques, and pregnancy-safe exercises—along with guidance for when it's best to stick with traditional medicine—so you can develop your own unique pregnancy and childbirth experience.
The
Natural Pregnancy Guide
includes advice about:
One size does not fit all—Explore both medicated and non-medicated birth plans, detailing the pros and cons of each, and the circumstances that may shape your decisions.
Cleansing your system—Discover gentle ways to "detox" by making healthy choices about personal care products and avoiding or eliminating toxins in your living and working spaces.
A multi-part approach—Learn the importance of establishing healthy habits before moving on to specific guidance for managing the challenges you may encounter during your pregnancy.
This companion book will guide you through each step of your pregnancy consciously and safely—just as nature intended.
About the Author
---
DR. LAURENA WHITE has more than 20 years of experience in the field of women's health, including obstetrics, gynecology, reproductive endocrinology, herbal medicine, and her work as a doula. Dr. White and her team are dedicated to bridging the gaps in women's healthcare and fertility through a unique combination of Eastern and Western medicine.
Praise For…
---
"As both a Western-trained OBGYN and Chinese Medicine certified practitioner, Dr. Laurena White's practical tips, facts, and myth-busters bridge the worlds of Western and natural medicine. Such a delightful and helpful resource. Who would have thought to ask how many pillows would be available in the birth room or known that one could bank the blood from the umbilical cord, which can be valuable to some ethnic groups or rare blood types?! I will be recommending this resource to my patients for sure!" —Jan Bull, M.A., Licensed Acupuncturist

"Birthed by a board certified OBGYN and licensed acupuncturist, Natural Pregnancy Guide is an informative reference filled with recipes, remedies, and recommendations given from an honest, nurturing, and evidence-based perspective. This book will be an incredible guide to help you detox your life from harmful chemicals and non-beneficial foods while creating the most optimal environment for baby and mom-to-be. It is definitely a must-have for anyone looking to have the most natural preconception and pregnancy journey possible." —Tiffany Nazaire, MSN, RN

"For anyone thinking about conception, presently planning for conception, or even experiencing the awesome adventure of pregnancy this book is a definite must-read and must-have! Dr. White covers every scope of how to initiate and have a healthy successful pregnancy from beginning to end, for every type of woman, in an easy to read fashion. The greatest thing about this book is that for every suggestion made, she has also provided instructions, examples, and recipes to use as a reference allowing for successful implementation. The process of pregnancy can be challenging enough—but with this book as your reference, I guarantee that it will be one of the many tools in your toolbox that will help to make your pregnancy that much smoother." —Tiffany Lovelace, DDS, Army Veteran, Mom

"Dr. White is an incredible woman who continues to bless women from all walks of life. Dr. White is an answered prayer to how women should be treated, like royalty. This book gives you a taste of the greatness that she is! I can go on and on about how blessed we are to have her." —Yenie Perez, HypnoBirthing Doula

"Natural Pregnancy Guide is just what the doctor should order. Laurena's down to earth, common sense appeal comes through in a writing style that makes us want to listen and learn. This guide is chock-full of great information and simple to implement practices for a healthy mom, baby, and those who support them. This is the perfect resource for any expecting family." —Yvette Gause, NBC-HWC, MS, MA, BeGause of Love Health and Wellness Coaching