Capital: New York, Capital of the 20th Century (Hardcover)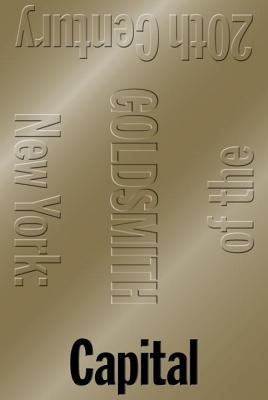 $49.95
Currently unavailable from publisher and distributor
Description
---
Acclaimed artist Kenneth Goldsmith's thousand-page beautiful homage to New York City

Here is a kaleidoscopic assemblage and poetic history of New York: an unparalleled and original homage to the city, composed entirely of quotations. Drawn from a huge array of sources—histories, memoirs, newspaper articles, novels, government documents, emails—and organized into interpretive categories that reveal the philosophical architecture of the city, Capital is the ne plus ultra of books on the ultimate megalopolis.

It is also a book of experimental literature that transposes Walter Benjamin's unfinished magnum opus of literary montage on the modern city, The Arcades Project, from 19th-century Paris to 20th-century New York, bringing the streets to life in categories such as "Sex," "Commodity," "Downtown," "Subway," and "Mapplethorpe."

Capital is a book designed to fascinate and to fail—for can a megalopolis truly be written? Can a history, no matter how extensive, ever be comprehensive? Each reading of this book, and of New York, is a unique and impossible passage.
About the Author
---
Kenneth Goldsmith is the founding editor of UbuWeb, teaches Poetics and Poetic Practice at the University of Pennsylvania and is Senior Editor of PennSound. He was an artist and sculptor for many years before taking up conceptual poetry. He has since published ten books of poetry and is the author of a book of essays, Uncreative Writing: Managing Language in a Digital Age.
Praise For…
---
"The book is an ever-rising crescendo of voices talking over and past one another inside a very confined space, and together that energy becomes the heat and light that made New York City the 20th century's most necessary city. Capital is as enriching as it is unwieldy, and a must-read for anyone who has even a little skin in this game. Ultimately, with both New York City and Goldsmith's book, all you have to do is say 'yes' to begin. Then, suddenly, everything comes at you all at once.″
—Scott Heins, Gothamist

"A fascinating work. Kenneth Goldsmith has set before us a Petronian feast in which every page offers up a toothsome morsel to anyone with an interest in New York and its pre-eminent place in the cultural life of the twentieth century."
—Times Literary Supplement

"Reading Capital feels like walking the city, through time and space, jumping neighborhoods, going in and out of buildings, slipping through wormholes. It's a kind of exuberant eavesdropping on the muttering, shouting narrative of the twentieth-century city."
—Jeremiah Moss, Vanishing New York

"Capital is … meant to be dipped into, to surprise, like a chance encounter on the street. The infinite richness of the city is an apt form for [Goldsmith's] ambition. Capital is a book to get lost in for hours, like some obscure corner of the Lower East Side; it helps us see the universe in a chunk of asphalt."
—Lauren Elkin, Financial Times

"The spirit of a city constantly wrestled with and romanticized all out of proportion suffuses Capital."
—Andy Battaglia, Wall Street Journal

"[Goldsmith] gives you the feel of what it is like to be living in New York now."
—Marjorie Perloff, New Yorker

"Capital could be seen as Goldsmith scaling up, a skewed take on the Great American Novel."
—Sukhdev Sandhu, Guardian

"[Capital] is an extravagantly complex construction, opening with a cinematic sweep of the city as a dream-like impossibility, then diving down from sky to earth, languishing in the street before digging underground and emerging to the sky, the weather, the atmosphere and, finally, the apocalypse … [Be] astounded by this epic, ten-year effort to shape an impossible portrait of a miraculous city which—as EB White puts it—should never have existed."
—Gilda Williams, Art Monthly

"A skyscraper of words—literary, journalistic, poetic, and prosaic—to celebrate and chronicle teeming Gotham. The title alludes to Walter Benjamin, and the conceit is one to do him proud … there is an embarrassment of riches here."
—Kirkus Reviews

"Goldsmith's material, unmistakably real, refuses to remain in a literary frame."
—Bookslut

"Capital scintillates … Goldsmith has produced a book that reminds us how close we can still get, via the labour of sound and thought and syntax, to the rhythms of a real city."
—Brian Dillon, Guardian

"As massive, intimidating and fascinating as its subject … The book is much like the city it describes: once you start exploring, you won't want to stop."
—Spectrum Culture