The Little Book of Whisky: Matured to Perfection-A Fine Blend of Whisky Facts, Stats, Quotes & Quips (Hardcover)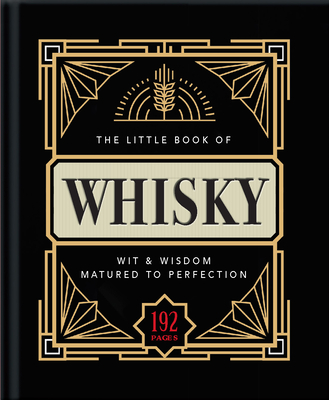 $8.95

Usually Ships in 1-5 Days
Other Books in Series
This is book number 2 in the Little Book Of... series.
Description
---
The Little Book of Whisky is here to listen, entertain and help you imbibe as many whisky-soaked tidbits of wit and wisdom as possible.
Whisky, aqua vitae, the water of life, the spirit of the Gods, the hard stuff - whatever you call it, has long been many people's best friend. But now your best friend has a new best friend - The Little Book of Whisky, a tiny tome guaranteed to raise your spirits with its fine blend of whisky facts & stats, quotes & quips, and matured with whisky history and heritage. The Little Book of Whisky is a guaranteed 100 proof... of excellence.
"I'm on a whisky diet. I've lost three days already." Tommy Cooper
"A good gulp of hot whiskey at bedtime - it's not very scientific, but it helps." Alexander Fleming on how to kill a common cold
If this doesn't make you want to visit Scotland nothing will. The nation is home to more than 20 million casks of maturing whisky. That's four barrels for every Scottish person. No wonder they want their independence.