Transmission & Transformation: A Jewish Perspective on Moral Education (Hardcover)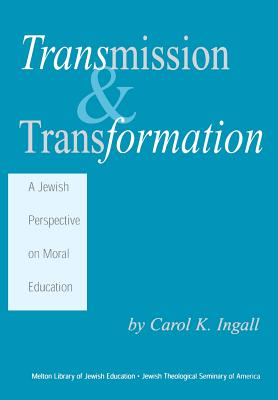 $25.00

Usually Ships in 1-5 Days
This books is not returnable and requires prepayment.
Description
---
Transmission and Transformation: A Jewish Perspective on Moral Education is addressed to teachers, principals, and rabbis struggling to make sense of the competing claims of moral education authorities in both the Jewish and general education sectors. It contrasts traditional and contemporary Jewish moral education and sets Jewish moral education into the wider context of values education in American public and private schools. The author helps the reader to reflect on the literature on moral education from a number of perspectives, including classical rabbinic sources, sociology, cognitive development, and sociobiology, in order to create a moral climate in a school which honors tradition while embracing modernity. At the heart of the book are Ingall's eight E's of moral education: Excellences, Environment, Experience, Expectations, Explanation, Examination, Exemplars, and Empathy. Each of these eight chapters includes practical suggestions for implementing these elements into the daily life of Jewish schools and informal settings.