Beautiful Thoughts (Paperback)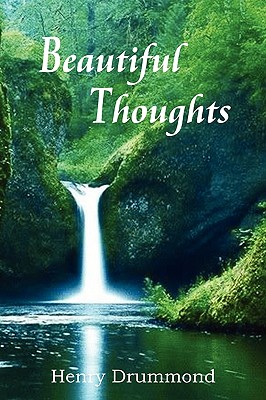 $11.99

Usually Ships in 1-5 Days
This books is not returnable and requires prepayment.
Description
---
Henry Drummond was a Scottish evangelist, writer and lecturer. Beautiful Thoughts is a compilation of daily thoughts that carries the reader through the year. Very uplifting and thought provoking. January 6th. Love is success, Love is happiness, Love is life. God is Love. Therefore love. The Greatest Thing in the World. January 11th. No single fact in Science has ever discredited a fact in Religion. Greatest Thing in the World. May 21st. Do not spoil your life at the outset with unworthy and impoverishing correspondences; and if it is growing truly rich and abundant, be very jealous of ever diluting its high eternal quality with anything of earth. The Greatest Thing in the World. October 28th. "Love suffereth long, and is kind; love envieth not; love vaunteth not itself." Get these ingredients into your life. Then everything that you do is eternal. It is worth doing. It is worth giving time to. The Greatest Thing in the World. November 28th. No one can get Joy by merely asking for it. It is one of the ripest fruits of the Christian life, and, like all fruits, must be grown. Pax Vobiscum.