Burning the Midnight Oil: Illuminating Words for the Long Night's Journey Into Day (Paperback)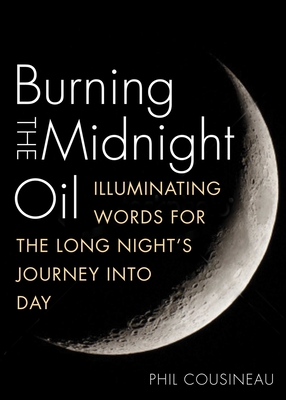 $16.95
Currently unavailable from publisher and distributor
Description
---
In Burning the Midnight Oil, word-wrangler extraordinaire Phil Cousineau has gathered an eclectic and electric collection of soulful poems and prose from great thinkers throughout the ages. Whether beguiling readers with glorious poetry or consoling them with prayers from fellow restless souls, Cousineau can relieve any insomniac's unease. From St. John of the Cross to Annie Dillard, Beethoven to The Song of Songs, this refreshingly insightful anthology soothes and inspires all who struggle through the dark of the night. These "night thoughts" vividly illustrate Alfred North Whitehead's liberating description of "what we do without solitude" and also evoke Henry David Thoreau's reverie, "Our truest life is when we are in dreams awake." These poetic ponderances sing of the falling darkness, revel in dream-time, convey the ache of melancholy, conspire against sleeplessness, vanquish loneliness, contemplate the night sky, rhapsodize on love, and languorously greet the first rays of dawn. Notable night owls include Rabandranath Tagore, Mary Oliver, Manley Hopkins, Jorge Borges and William Blake.
Winner of the Independent Publisher Award Gold Medal in Inspirational/Spiritual
About the Author
---
Phil Cousineau is a bestselling author, editor, photographer, award-winning documentary filmmaker, adventure travel leader, and independant scholar who lectures around the world on a wide range of topics from mythology, mentorship, and soul. His books include The Art of Pilgrimage, Soul Moments, Riddle Me This, and The Soul Aflame. A protege of the late Joseph Campbell, Cousineau is also the author of The Hero's Journey: Joseph Campbell on His Life and Work. He lives in San Francisco, California.
Praise For…
---
"A holy text." -- Coleman Barks
"A wonderful anthology." --Alberto Manuel, The History of Reading
"The brighter side of darkness- for some the night inspires. It's not just vampires who seek the dark: it's poets, painters, musicians and artists of all kinds. Writer, filmmaker and traveler Phil Cousineau has edited a new anthology that centers on the creative joys of nighttime. The mixture of poetry and prose is called Burning the Midnight Oil: Illuminating Words for the Long Night's Journey Into Day. The book has a forward from a surprising figure: Jeff Dowd, a film producer and political activist who was the inspiration for The Dude in the Coen Brother's film The Big Lebowski." -NPR Weekend Edition
"Sensitively selected, the pieces are moving, haunting, beautiful, leaving the reader with a feeling of quiet pensivity." --City Book Review
"Entertaining and enlightening." --ForeWord Reviews
"This Holy Fool feels fortunate to join you and all the great artists in this book who have entered The Grand Central Station of the Mind and have passed by the tres boring Orient Express on Track #1 to hop on...the Night Express to our Soul, somewhere at the dark end of the station that leads, if perchance we survive, to the light of life--the secret source. No risk/no reward from this nocturnal thrill ride through our subconscious." --Jeff "The Dude" Dowd, in his foreword
"Calling all insomniacs! This collection of prose and poetry explores every aspect of darkness. From a discussion of Edward Hoppers Nighthawks to Sappho's reveries about nightingales and daybreak, Phil Cousineau leaves no stone unturned as he explores both the realities and the metaphors associated with the night." --Anna Jedrziewski, Retailing Insight
"In this engaging, entertaining and edifying anthology of essays, poems, quotations, prayers, and philosophical ditties, Cousineau probes the multidimensional world of the night with all its treasures, mysteries, and delights [...] Anyone who has savored the pleasures of being a night owl will rejoice in the varied material in this paperback where 'noctivagators' (the night walkers) share their experiences of 'the Long Night's Journey Into Day.'" --Spirituality & Practice
"Phil Cousineau's new collection is cause for rejoicing. He leads us on the long night journey, holding brilliant candles, flashlights, lanterns, spotlights, all made of glorious words, to illumine the hours. Wherever the night carries us, through waking dreams, sweats, worries, or raging sleeplessness, Phil Cousineau's elegant new work provides troubadour songs, thoughtful conversation, and sweet companionship to help us not only make it through the night but to find within its darkness a profound, dazzling beauty." --Peggy Rubin, author of To Be and How To Be: Transforming Your Life Through the Powers of Sacred Theatre
"My night vision has been trebled! Essentially a day person, I feel vastly enriched journeying this dusk-to-dawn world, guided by those who have mined the dark hours with enthralling courage, curiosity, lyricism, spirituality, eroticism, humor, passion and honesty. No cursing the darkness here. Once again the candle-lighting Cousineau delivers new delights in the familiar, the exotic, the old, the modern, the high, the low--and the deliciously unclassifiable." --Arthur Plotnik, author of Better Than Great and The Elements of Expression
"This kind of book is the kind you dip into, but I read it cover to cover, not wanting to miss an entry" --Daniel Goldin, Boswell Books
— Reviews
Coverage from NPR