Los 7 hábitos de las familias altamente efectivas / The 7 Habits of Highly Effective Families (Paperback)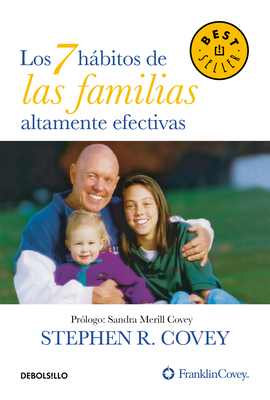 $15.95

Usually Ships in 1-5 Days
Description
---
«Cuando educa a sus hijos también está educando a sus nietos»

Con la misma visión, sencillez y sabiduría práctica que ha llegado a millones de lectores, Stephen R. Covey demuestra cómo los principios de Los 7 hábitos de las personas altamente efectivas pueden usarse para crear una familia fuerte y amorosa que dure varias generaciones. Covey explica que las familias sólidas no surgen espontáneamente, sino que todos sus miembros necesitan combinar energía, talento, voluntad, visión y empeño.

Al compartir experiencias profundas, conmovedoras y divertidas de su propia vida y también de otras familias, Covey nos brinda consejos prácticos para solucionar dilemas comunes en las familias: encontrar tiempo para estar juntos en la vida privada, lidiar con los conflictos familiares, salvar una relación deteriorada y transformar una atmósfera familiar negativa. Nos muestra cómo las familias pueden aprender a incorporar principios en su vida diaria mediante actividades, reuniones y juegos que involucren a todos sus miembros y contribuyan a desarrollar un espíritu de comprensión, apoyo y entusiasmo. Un volumen destinado a convertirse en el libro de cabecera de la familia.

ENGLISH DESCRIPTION

In his first major work since The 7 Habits of Highly Effective People, Stephen R. Covey presents a practical and philosophical guide to solving the problems--large and small, mundane and extraordinary―that confront all families and strong communities. By offering revealing anecdotes about ordinary people as well as helpful suggestions about changing everyday behavior, The 7 Habits of Highly Effective Families shows how and why to have family meetings, the importance of keeping promises, how to balance individual and family needs, and how to move from dependence to interdependence. The 7 Habits of Highly Effective Families is an invaluable guidebook to the welfare of families everywhere.
About the Author
---
Sean Covey nació en Belfast, Irlanda y se educó en Provo, Utah. Ha vivido en Sudáfrica, Boston y Dallas. Actualmente es vicepresidente de las tiendas al menudeo de Franklin Covey Co. Es una de las principales autoridades mundiales en manejo del tiempo y liderazgo de vida. Se graduó con honores en literatura inglesa en la Brigham Young University y posteriormente realizó una maestría en la Harvard Business School. Como quarterback titular, condujo durante dos años seguidos a su equipo a disputar sus tazones correspondientes, siendo elegido el Jugador más Valioso. Antes de trabajar en Franklin Covey, estuvo en Deloitte Touche Consulting Group, Trammell Crow Ventures como conferencista y ha brindado sus charlas tanto a jóvenes como a adultos.